Although the 1956 Chevy 3600 flat bed is going to be restored to "as original" for the most part, Lewie did insist on a few upgrades for safety and drivability. At the top of the list was adding a power booster system so that the four drum brakes could haul the 3/4 ton truck to a stop more effectively and with less effort.
Classic Performance Products had the perfect product for the job – their frame mount brake booster kit for drum brakes (part number 5559BBD, accessible at classicperform.com). We purchased it through Summit Racing to take advantage of their pricing and free shipping.
Though we were a little concerned with the lack of documentation, it turned out that the installation was straightforward and simple. From start to finish it took us three hours to complete the installation. not including new brake lines, which haven't been made up yet.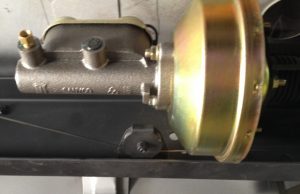 In addition to the brake line replacement, which shouldn't take more than an hour to install, we had to make two other modifications. First, we had to move the handbrake cable pulley rearward on the frame a few inches to clear the large diaphragm housing. These were the only new holes in the frame, since the new master cylinder and booster utilize the same mounting holes as the original.
The second modification required for this kit is to create a new access hole in the floor of the cab, since the original master cylinder is several inches forward from the CPP unit.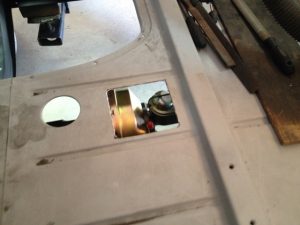 We didn't want to cut into the transverse rib on the cab floor, nor the strengthening grooves in the floor, so the access hole is not directly over the master cylinder reservoirs. But we made the access opening large enough to fit your hand through to remove the cap and perform fluid maintenance.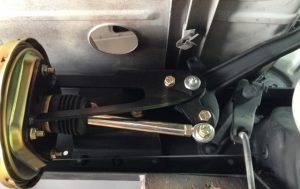 At around $300 plus the cost of new or modified brake lines, the kit is a bargain, especially when the ease of installation is factored into the equation. We will utilize braided stainless steel lines if we can get those made up economically, otherwise we will opt for hard lines like the original setup.
Summing it up, we're very pleased with the CPP kit and we are looking forward to a little more stopping power. After all, Lewie, Lance, and I all live in Hidden Meadows in northeast San Diego county, and leaving the 'hood requires dropping several hundred feet in elevation down a steep grade to access I-15 and the rest of the world. If this kit performs as well as it looks and installs, it will be making an appearance on the '59 Apache soon.