Lightning Lewie, the owner of the 1956 stake-side 3/4 Chevy brought it out to California from Alabama a few years ago. The truck had been in the family since 1966 and was surprisingly well-kept, with minimal rust. But he wanted this beast to look good, and he wanted a few conveniences, like power steering and power assisted brakes.
Okay, so far that's pretty straightforward. But as the title of the post says, this is a farm truck. Six cylinders, 235 cubic inches, 3-speed manual transmission, and a 4.57:1 rear end ratio. For all intents and purposes, about a 50 mph top speed.
Follow us as we address all of these issues.
Bulletin: It is Finished!
The list is long, but the highlights of this build include  sandblasting it from bumper to bumper, including the wood gates and bed; adding power steering, power brakes, new wiring harness from Rebel Wire, a Borg Warner overdrive for the three-speed transmission; lots of insulation (it is quiet!); stereo sound system; many pounds of blue paint on the exterior; and a new interior, top to bottom. Owner Lewie Trawick handled the refinishing of the original bed and gates, and they turned out great, including the Crimson "A" smack dab in the middle of the bed for our Alabama natives – Lewie and the truck.
You'll find a good number of posts here about our favorite project so far, including the most recent with a gallery of photos from the project.
Before and after: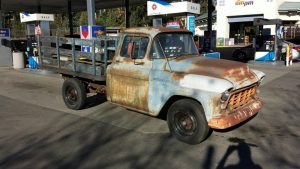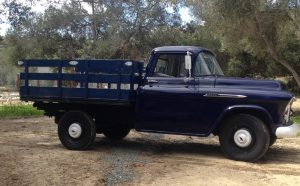 We loved that Lewie wanted it restored to original condition, with just a few modern conveniences.