After assessing the efficacy of our own blasting equipment, we decided professional help was needed. Fortunately, just down the street in Fallbrook we had driven hundreds of times past a sign advertising sandblasting by a company called Tronier Sandblasting. We phoned the number – 760.645.3180 – and asked Tronier, father and son, to come out and take a look at our project. The rate to blast the entire truck seemed reasonable, so we set a date.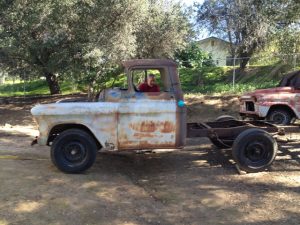 They agreed to do the job at our site, but first we had to figure out if we could get the truck back into the barn if we rolled it out. We had a 2000 lb. rated, 24 volt winch in the shop so we rigged it up in between our two post lift using a stout piece of rectangular tubing. Rather than just a straight pull, we felt using a pulley on the load would be safer, reducing the tension on the rope by half.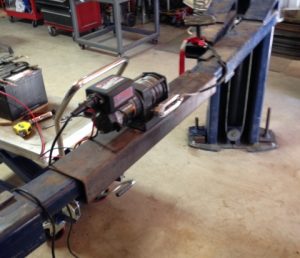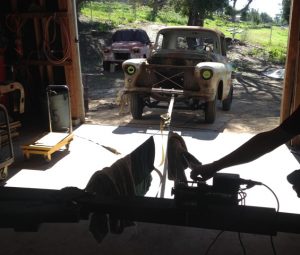 Satisfied we could get it done, we proceeded. In between rain storms, we found two clear days to do the job.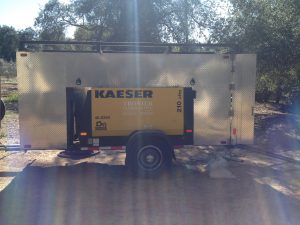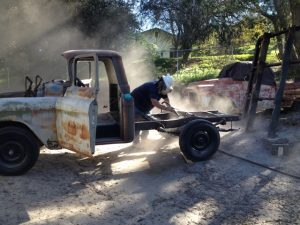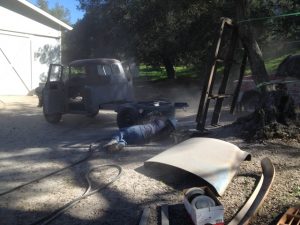 What Jim estimated could be a one day job, turned into two days plus, but the price remained the same even though we offered to sweeten the deal. I can't say enough good things about Tronier; for sure we will have them back to blast the '58 GMC, seen sitting in the backround.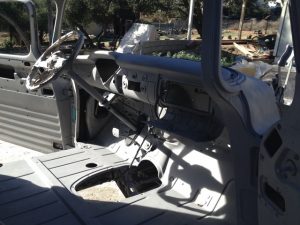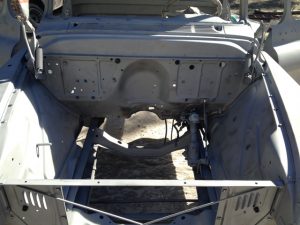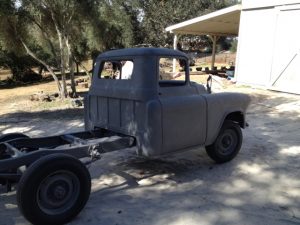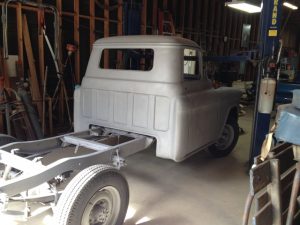 The Farm Truck was really in excellent shape, with only the steps on both sides and one corner of the hood needing any rust repair. But blasting away any body filler will reveal all – including some damage to the left front fender, and a couple ripples in the right front fender.  All in all, though, it is in fine shape for a sixty year old truck.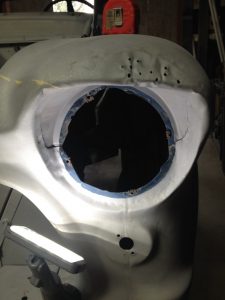 The flat face on the driver side fender has been pushed under, creating a knife edge look. This is what it should look like.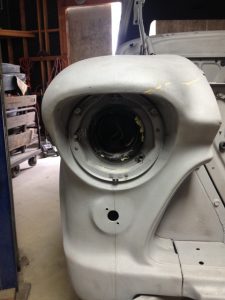 Lance and I thought we'd be able to get the sand wedges out and hone our bunker shots, but the kids were quick to claim the beach as their own.