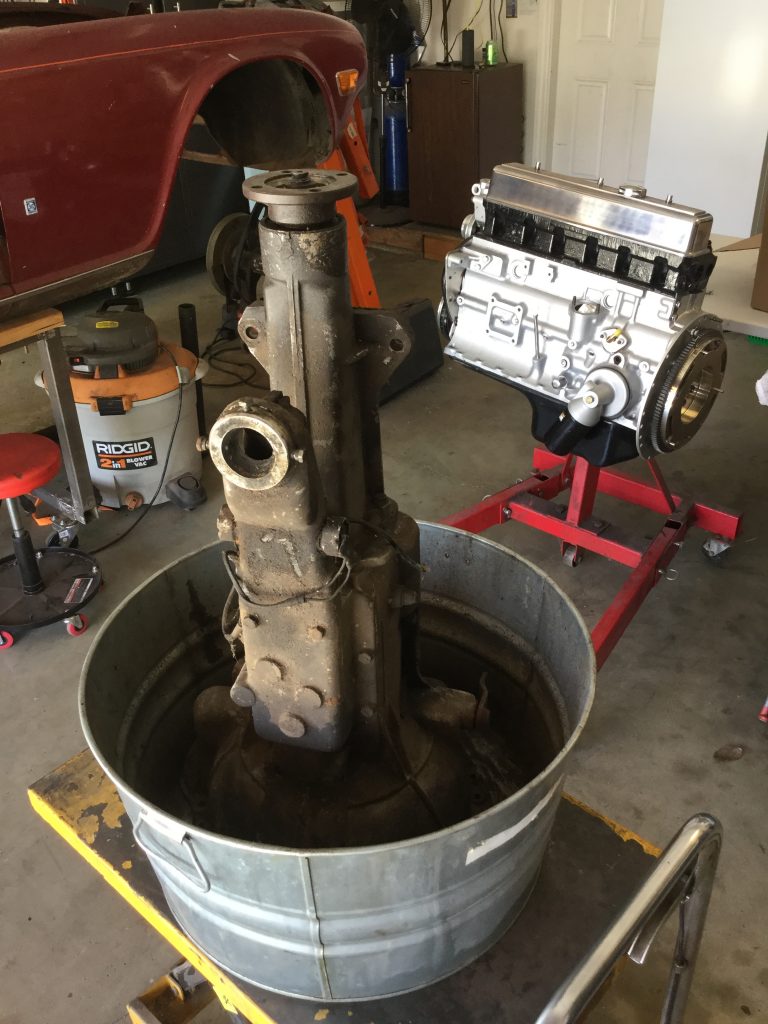 Installing the engine and transmission went smoothly, with the assistance of a friend to guide it into place. The hoist (tempted to capitalize and bold that word, it came in so handy) was used not only for installation, but also for the cleanup of the transmission as I hung it over a tub. The previous owner indicated that it shifted fine so I did not open it up. Just cleaned it, replaced front and rear seals and the clutch bits at the front of the transmission (throwout bearing, fork, and shaft). I did spin the trans with a drill to make sure the gears did in fact work.
After reading about heat and noise factors in the various forums, I decided to stay with a stock exhaust system. The manifold is stout, the stainless steel pipes guarantee a long life, there was no need to worry about fitting headers, and the exhaust note with the stock system, including the muffler, is perfect.
I added a bung into one of the downpipes for the O2 sensor, which is one of the inputs to the TBI computer. It just barely cleared the original starter, so I could have aimed it slightly more to the outside. Of course a single downpipe would have made more sense for the O2 reading but the '73 is the dual downpipe manifold system so the bung was welded into the more accessible outside downpipe. It seems to work fine this way… no problems with the way the engine starts and runs.
Even though I was months away from actually starting the engine, I decided to fill the engine with oil and spin the oil pump with my drill to make sure I had oil pressure before going any further. I used Driven 10w40 break in oil.