Why a post about bump steer? Well, because we've built two trucks and both suffered from horrendous bump steer problems.  One was brought on by the installation of a drop axle, and the other by upgrading to later GM power steering setup.
How to make it livable? You need to get the drag link parallel with the ground. A short drag link that is steeply inclined could see you bouncing into a ditch or into the oncoming lane. Not knowing how significant the effect might be, I built a simple model.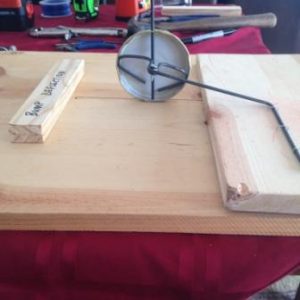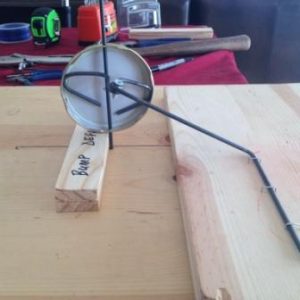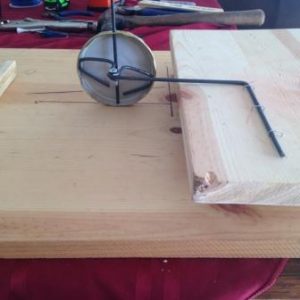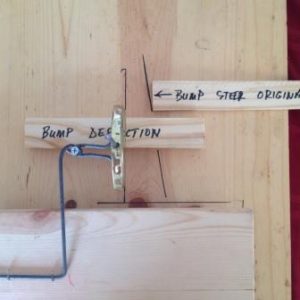 The '48 Chevy had a CPP kit which facilitates an upgrade to a 1967-89 Chevy truck power steering setup . This entails  mounting the steering box to the outside of the frame rail. CPP sells a Pitman arm for lowered trucks that allows the drag link to be dropped in from above the Pitman arm. In addition, we fired up the oxy-acetylene torch and bent the both the Pitman arm (yellow arrow) and the steering arm (white arrow) to achieve a horizontal drag link when the car was sitting on the ground. This picture was taken with the '48 on the lift so the drag link is at a slight angle in this photo. It took a couple tries, but we finally made the steering manageable.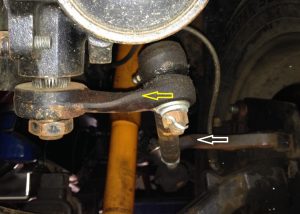 Since this truck has significant body roll, especially at the front end, at some point we will source an anti-roll bar. (We hope) that will further decrease the bump steer effect and make the truck a little more sporty in the corners.