After finally getting the '59 Apache painted and back on the road, we were ready to begin on the "farm truck." It didn't take long to figure out that the 3/4 ton truck was going to be more problematic regarding parts. They tended to vary between unobtainium and ridiculously expensive. But, since the truck has been in the Lewie's family for fifty years, we all felt that restoring 3600 flatbed to it's former glory was preferable to converting various systems to half-ton spec.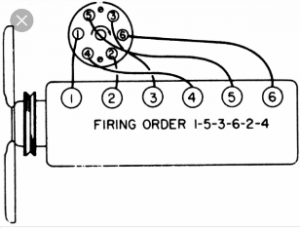 We performed a couple of reasonably quick and easy checks of the engine which confirmed that the easy starting, smooth running 235 straight six was in good condition.

We checked the compression dry and then wet, and were satisfied with those results. We intended to follow with a leak down check, but the rib cages were screaming for mercy after reaching for those rear cylinders, so we moved on to the vacuum test…  it couldn't have looked much better. We can put an engine refresh on the back burner for now. There are a couple leaks that need to be dealt with, but nothing major.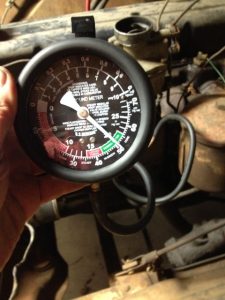 Flatbed Disassembly
Next we decided to disassemble the flatbed to make it presentable again. We determined that we could use the existing planks if they were flipped over, but the metal strips were too rusty to re-use.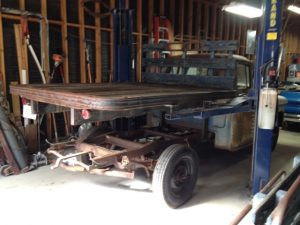 Mar-K Manufacturing in Oklahoma City makes replacement metal strips. We filled out the online form with the required dimensions:  overall length, location of the bolt holes, size of the bolt holes, and quantity. Within a few hours, we had a price quote for our nine strips ($14 each, plus a setup fee and shipping).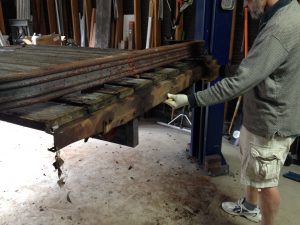 Removing the rear of the flatbed frame allowed us to slide the 1.25″ thick planks out the back. The planks are 92″ long and of varying widths, and the top side has been routed and grooved so that the strips sit more level with the wood surface and lock the adjacent planks together.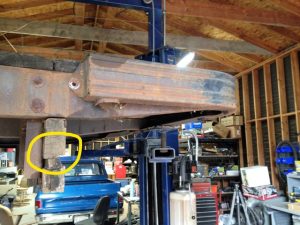 We found that one of the two main fore-aft beams supporting the flatbed was rotted out and soft at the front, so we will need to graft on a new piece or have a complete new beam built to spec. More on that later.